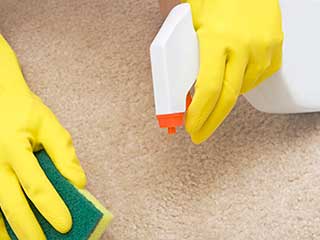 Eco-friendly products are all the rage today. It seems that everyone wants to take part in greening their home, and having a smaller ecological impact in everything that they do. This goes beyond just being the latest fad. Eco-friendly can also be family-friendly, and just as importantly, carpet-friendly. There are a wide range of eco-friendly products you can make using simple ingredients in your home which work great for stain removal and carpet cleaning.
Many people are beginning to understand that just because a product has been purchased in a store and say it can be used for carpet stain removal that does not mean it is entirely safe for their home, their family, or their pets. Common substances in these simple over the shelf sprays can include formaldehyde, and various side effects of spraying them around sensitive people are dizziness, headaches, and irritation. These sorts of reactions have caused many people to move beyond the store bought products. Instead, they are resorting to old fashioned but still effective measures for cleaning stains out of carpets.
Simple Home Fixes
Household carpet maintenance and cleaning does not have to involve the multisyllabic chemicals you do not recognize. All you really need is some vinegar, some water, some salt, or some baking soda for quick, effective stain removing remedies. For a very easy solution to work against stains, mix equal parts of white vinegar and water into a bottle or bucket. Then, spray the solution onto the stain and rub at it with a cloth. Then, let it sit for a few minutes and rinse the area clean with more water. Dry it off to keep the area from being soaked, and the stain should be gone.
Another popular trick is to create a stain removal paste out of ½ cup each of vinegar and baking soda, and ¼ cup water. You also can mix a one-forth cup each of vinegar, salt and borax. Both recipes will combine to form a paste which can be applied to the carpet stain and allowed to sit for a few minutes while it dries. Then, when it has dried itself to the stain, simply vacuum it away. The whole process is very easy and it can be done with nothing more than the ingredients out of your own pantry.
Green Stain Clean
Going green against stains can be done very easily using only ingredients you already have stored in the cupboard. They are safe to use and very effective. When you are finished, you only have to dry them off or vacuum them up, without having to worry about any chemical exposure in your carpets. This makes them an easy, safe, and excellent stain removal tool.