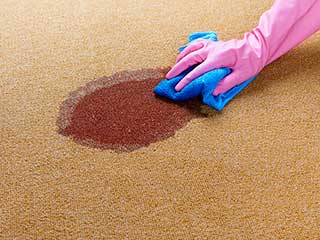 If you have young children or pets at home, stains can be a constant concern. Even if you don't have children or animals, stains can be created by food or drink spills, blood, all kinds of party activities and accidents. Your precious rugs and carpets are worth preserving. It would cost a fortune to have to replace them every time they were ruined by a huge impossible stain. This is where we can help. Our experts are trained to know exactly what it takes to clean the most stubborn of stains. We use the latest techniques and equipment to execute stain removal services that have been proven to clear marks without damaging your carpet or furniture. Some stains can be removed with basic cleaning products, but some require more advanced methods.
How Stains are removed
We have several levels of cleaning service to choose from. The vast majority of tough stains will be removed successfully by our basic surface cleans. Some substances however, will need particular chemical solutions and processes that are more sophisticated. All of our specialist cleaners keep a wide variety of solutions with them wherever they go. They will be able to assess the service you need depending on the kind of stain or stains that need dealing with. We are confident we will be able to completely clear all kinds of marks or at the very least reduce to a minimal visibility. Our solutions are specially formulated and selected carefully by our technicians on arrival to clear the stains you have presented as efficiently and safely as possible.
Stain Removal Executed Perfectly
When you attempt to clean a very hard stain yourself, you could be doing more damage than good. This is especially the case if you are trying to clean particularly thick carpet or precious items like oriental rugs. These materials deserve special care because they are valuable and fragile. Their weave will trap dirt very effectively and make it nearly impossible for you to scrub out stains without causing serious and irreparable destruction. We use vacuums and solutions that are specifically designed to loosen and clear the toughest substances, while not bringing any damage to your property. In most cases, it is best not to take the risk and to ensure your precious upholstery is cleaned by a train professional. We have successfully removed stains from almost every type fabric you can imagine.
Get professional stain removal services you can count on today by giving Carpet Cleaning San Marino a call!